Microsoft Edge browser is a chromium-based browser, it is the same open-source software that Google Chrome uses.
Google Chrome has been the most popular browser since 2008 because of its performance, amazing features, and timely security updates. Until the last few years, there were no browsers that could match up with Chrome's performance.
But when Microsoft Edge became a chromium-based browser it started adding some of the coolest features in terms of performance and reliability. Now it is getting traction and has the true potential to overtake Google's chrome browser.
At present Edge has an edge in so many features compared to the chrome browser. In some instances, Edge is found to be faster than Chrome browser and it's no joke.
Once you start using the edge browser, you may never think of leaving it because of the experience and the features it provides.
There are some of the best features in the Edge browser that will make you fall in love with it.
Let's see all those amazing features of the Edge browser and then you decide how really amazing they are.
10 amazing Microsoft Edge tips and tricks
1. Generate QR codes
With one click you can create a QR code of any website and download it.
Visit any site that you want to generate the QR code for and right-click somewhere on that site to see the context menu and select/click Create QR code for this page to generate the QR code.
You can also additionally click on the search box to see the QR code icon on the right side and clicking that icon will also generate the QR code for that webpage.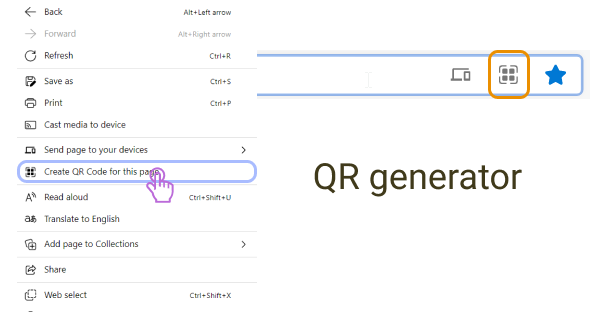 2. Screen read text
Edge has an inbuilt text reader with about 40+ voices including regional languages. This is an amazing feature to listen to the text on the news or highly text-based sites.
To activate reading mode just type ↪ Ctrl + Shift + U by visiting the page you want. Alternatively, you can select any particular text and right-click and then select Read aloud from the context menu to read it out.
You can also randomly listen to the text by clicking on it when the reading mode is on.
You can use the controls for starting or pausing the voice. By using the voice options you can switch to different voices and accents. You can also adjust the speed of the reader. Basically, it provides almost all the features of a stand-alone screen reader.
3. Take screenshots
Edge browser has an inbuilt screen capture tool using which you can quickly take a screenshot of a particular area or a full webpage.
To take a screenshot type ↪ Ctrl + Shift + S, you will get two options to select, Capture area and Capture full page based on your selection you can take the screenshot.
Soon after capturing you can draw or doodle on the image quickly and save it or copy the image or even can share it directly with the share option. It got to be just so handy without having to use extensions or external applications for this.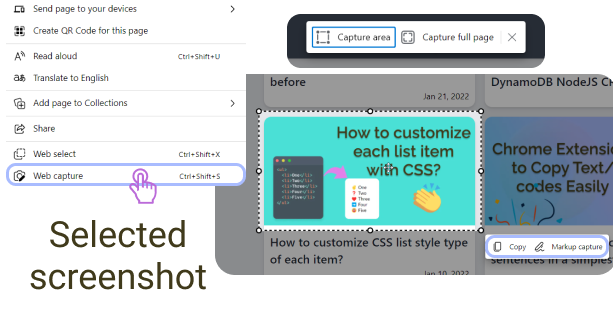 4. Share links in a click
No more you have to copy the link and go to a particular social media or mailing application for sharing the links of the sites that do not have share buttons now.
With just one click you can share any website link with the social media applications you use. Right-click on the webpage and select/click the share option and then you'll be shown with the sites/apps to share the link with. That simple it is.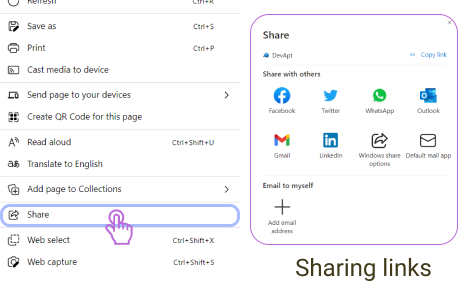 5. Get citation details
This is a highly useful feature for college students or researchers to cite the details of web pages for the research or journal papers.
Go to the more options by clicking the three dots or by pressing ↪ Alt + F and select More tools and from there click Cite this option.
You can get citations as per the IEEE, Harvard, and various other formats. You can enter author, title, DOI, publication date, volume, issue, etc all details related to the particular citation format and get it nicely formatted in just a few clicks.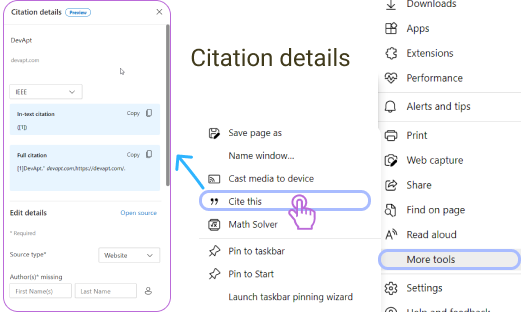 6. Solve math problems
The most amazing feature is this, you can solve various kinds of math problems just by scanning. It's an AI math solver inbuilt in the Edge browser.
You can solve any arithmetic, linear, quadratic, higher degree polynomial, matrix, and even complex numbers, etc problems just by scanning. It also shows steps involved in solving the problem.
This could be very handy for research students while reading papers to crosscheck the equations or problems listed.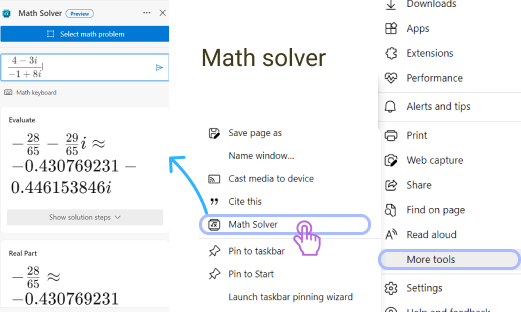 7. Share highlighted text of a site
Sharing a webpage link to highlight certain text or details is very easy now using the text highlighting feature.
Just select any text you want on a webpage and right-click and then select Copy link to highlight option from the context menu. That's it the link gets copied to your clipboard which you can share on any site or application.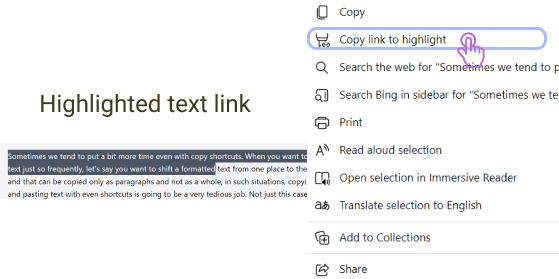 8. Immersive reader
Edge has an immersive reading option to read text on websites without any distraction from ads and other content.
Immersive reader provides amazing learning and accessibility tools, such as Read aloud, Text preferences, Grammar tools, and more.
To enable immersive reader just click the speaker icon on the extreme right of the search bar. Sometimes it may not show up directly, for that just scroll down the page and reload the page to see that icon.
Tip: When certain sites bug you to disable the ad blocker or don't allow you to read the text until subscribed, you can enable this immersive reader mode to bypass those and it works like a charm on most of the sites.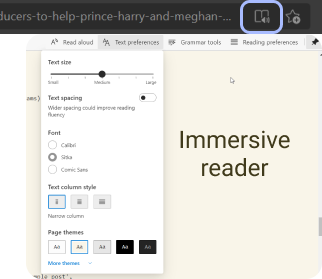 9. Save sites using a collection
Collections is a very nice feature that exists in the Edge browser. Using this you can quickly add your favorite web pages or sites to a collection. You can organize collections at your convenience. This is a cool and handy feature like bookmarking.
To add any site to your collections just right-click and select Add page to collections and then pick your collection to add to.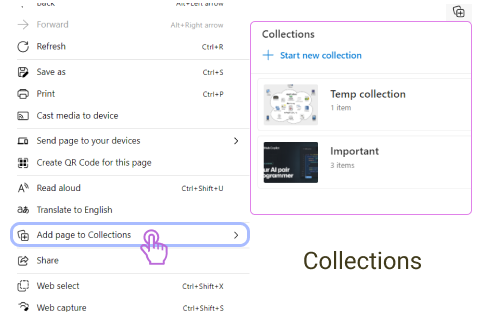 10. Add extensions from the chrome store
You can add any extensions from the chrome store easily, and all work perfectly in the Edge browser. This could be highly useful when you want to maintain the same tools as in a chrome browser and have all your working extensions with you.
There are a few other very interesting features in the Edge browser like, you can enable edge bar for multi-tasking and browse webpages as a secondary tab, you can change the direction of your tabs from horizontal to vertical, and vice-versa, etc.
Let us know which of the above-listed features are really amazing to you. If you know any other features that are worth mentioning here do let us know through comments.